JADE Jamaican Grill (d/b/a JADE Grill & Cafe)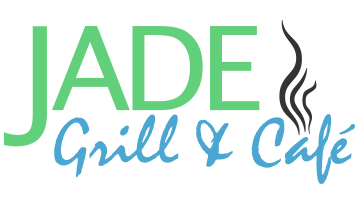 JADE is a foodservice, special event and media company serving corporate and private clients nationally.
Janet Davis is the CEO of JADE Jamaican Grill (d/b/a JADE Grill & Café) located inside the RWJ Fitness and Wellness Center in Hamilton, NJ.
Born and raised in Jamaica, Janet's fascination with food began at an early age as she observed and later began helping her mother in the kitchen and at the family's restaurant.
After graduating from SUNY New Paltz with a BA in communications, Janet went to work for Bloomberg, L.P. She spent twelve years in human resources and broadcasting, during which time she earned an MA in communications from Temple University.
In 2004 she founded Scotch Bonnets Catering. Capitalizing on her communication and media background, she hosted and produced The Pepper Pot cooking show for MiND-TV (PBS/WYBE). Her engaging and warm presence on screen attracted additional media exposure, leading to appearances on FOX Philly and NBC Philadelphia. She soon became the Regional Media Chef for national dairy cooperative Cabot Creamery.
By 2011, Janet had grown her catering firm into a restaurant, Scotch Bonnets, in Medford, New Jersey. In 2013, she rebranded as JADE – Janet Ann Davis Enterprise, transforming the restaurant into an off-premise food venture know as JADE Jamaican Grill, providing corporate catering, personal chef services, and culinary-themed workshops. Janet began teaching cooking classes at gourmet retailer Williams-Sonoma while providing personal chef services to VIPs and corporate executives in New York City and the Hamptons.
In 2016, Janet was chosen from among the region's best chefs to serve the Democratic National Convention (DNC) in Philadelphia, bringing JADE's distinctive cuisine to the Welcome Delegate Reception and the National Media Party. As her FullonFlavor brand grew across the New York Tri-state and Delaware Valley regions, so did her corporate clientele to include Hugo Boss, Bloomingdale's, PGW, Exelon and the city of Philadelphia. Her media engagements continued with features in the Philadelphia Tribune and Catering Magazine, and guest chef appearances on PHL-17 TV.
Her storied time in business, special events and media, serving on committees and non-profit boards, including as President of the National Association of Women Business Owners of South Jersey (NAWBO-SJ), helped lay the foundation as a sought-after speaker on entrepreneurship, women in business, food and lifestyle. Janet has spoken at Princeton University, Drexel University, Temple University and SUNY New Paltz. She's served as the Moderator at the New Jersey Restaurant & Hospitality Expo, Keynote Speaker at the 3rd Annual Women's History Month Celebration for Union Township, New Jersey, presenter at the International Restaurant & Foodservice Show of New York, and at the New Jersey Conference for Women.
Today, Chef Janet oversees operations at JADE, servicing clients like RWJ Barnabas Health and RWJ University Hospital, and as a contributor at Total Food Service. She is a proud mother to son Robert, active community volunteer, and member of Bible-Way Apostolic Missions, the NFL Alumni Association and the Chamber of Commerce of Southern New Jersey (CCSNJ).
JADE will be opening it's first physical location Wednesday, February 3, 2021 (soft opening) inside the RWJ Fitness & Wellness Center in Hamilton, New Jersey. Our grand opening will take place on 4-3-21!