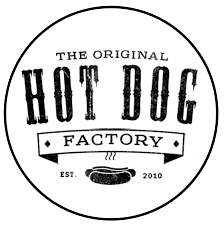 CEO, The Original Hot Dog Factory Voorhees

What is your business/organization name?
The Original Hot Dog Factory Voorhees
What inspired you to join/start your business?
I've always had a love of food. I wanted to provide a unique restaurant in South Jersey that could also be used as a place to gather while providing services for our community.
Is there anything else you'd like us to know about your business?
I am all about giving back to our community with book bag drives, providing wash cloths and towels to the homeless population in camden, and also hosting events such as dine and donate. We have more then just gourmet made to order hotdogs. We have angus beef hamburgers, 7 different types of wings, chicken sandwiches, salads, fried oreos, funnel cake sticks and vegetarian options to include impossible burgers and beyond meat sausages.
What does Black History Month mean to you?
This month is a reminder of the excellence we bring day to day. As a black woman I am made up of a diversity that is all mine and cant be taken from me. Diversity is not just "color". My thoughts are diverse, my strategies are diverse, and my uniqueness's allow me to be a trail blazer that loves to impact and inspire others. Our "Black girl magic" not only allows us to give of ourselves but we also recognize that we are open to learning new ways to be better versions of ourselves. Black History Month gives others a chance to halt and recognize our accomplishments, but it also gives "us" the opportunity to appreciate each other.
What are your three greatest accomplishments?
1. Being brave enough to open a restaurant at the height of the pandemic. When others were running away.. I was running toward. 2.Not allowing obstacles to get in the way of my goals. I was pregnant at 19 and ended up leaving behind a full college scholarship. Life could've turned out different if I ALLOWED IT. 3. I had the courage to leave a corporate job after 16 years to pursue my goals. My goals are larger then my fears.
What's the best piece of career advice you've ever received?
Brave (wo)men may not live forever but cautious (wo)men do not live at all. - Author unknown